About 3D Interiors
3D Interiors, Inc. specializes in both residential and commercial interior design with an emphasis on custom fabrics, window treatments and draperies, wall-coverings, upholstery and space planning. Conveniently located in the epicenter of the Dania Beach Design District, 3D Interiors is home to South Florida's luxurious and unique industry trends.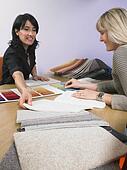 South Florida is also known for its cultural diversity and Latin American influence to which owner, Aida Ortiz, fabric specialist and design consultant, draws her inspiration from. An expert in wallcovering decor and custom window treatments, she incorporates transitional style into her design work as well as uses environmentally conscience products and materials.




About the Owner

With more than 30 years of interior design experience, Aida has a diverse and elite clientele working on projects throughout the Caribbean and in Latin America. She prides herself on customer satisfaction and knowing the formula for meeting clients' individual needs, which includes successfully staying within budget and having consideration for time management. Aida's knowledge and creative talents allows her to translate those expectations into visual art that is not only elegant but comfortable.
Aida's passion for interior design is reflected in the beautiful surroundings that she creates. An ability to collaborate with architects, contractors, and her clients have earned Aida a well deserved reputation as a true professional.






Some of Aida's professional affiliations include:



City of Dania Chamber of Commerce
Founding Father of the Dania Beach Design District



The Dania Beach Design District - where the Art of Design Inspires Excellence

As a "Founding Father" of the Dania Beach Design District, 3D Interiors has guaranteed a prominent place in one of the most influential Design endeavours in the last 20 years. The newly emerging Dania Beach Design District is growing by leaps and bounds as several design related industry leaders have chosen this location as home to market their high-end quality goods and services. The district offers a superb selection, representing more than 1,500 of the world's finest furnishing manufacturers, services and products making it a one-stop shopping resource for designers, architects, builders, developers and the public. Buyers are rapidly discovering the district's appeal with its welcoming small town charm, easy access, free parking and big city collection of the industry's finest products and services. Visit the Dania Beach Design District to discover how the "Art of Design Inspires Excellence." We are on the cutting edge and invite you to join us as we break new ground!
3D Interiors, Inc.
954-920-9004
1249 Stirling Road Suite 14
Dania Beach, FL 33004
3DInteriorsinc@att.net